An Interpretation of Life
Mathea Boogert and Tascha Sciarone standing in front of her artworks discussing the aesthetics of individual pieces with a collector at the opening 2 July 2022 in Gouda.
Mathea Boogert's (1957) shift in perspective for the body of work is interpreted as you observe the colour value changes. This exhibition explores her foray into her Wabi-Sabi series, which is removed from her predominantly blue oeuvre.
We can find epiphanies in these infinite fleeting moments, with how our minds expand and how many dents the scars from healing leaves. Going through her previous works, it is pretty distinct. She moves from the simplicity of colourful sunflowers, tulips, trees, berries and even herons to bright, playful sensations of rich purple, green, and blue. These colours burst so much life within the undertone of pastel and chalk. The Wabi-Sabi's is a move to complex kaolin palettes of an abyss.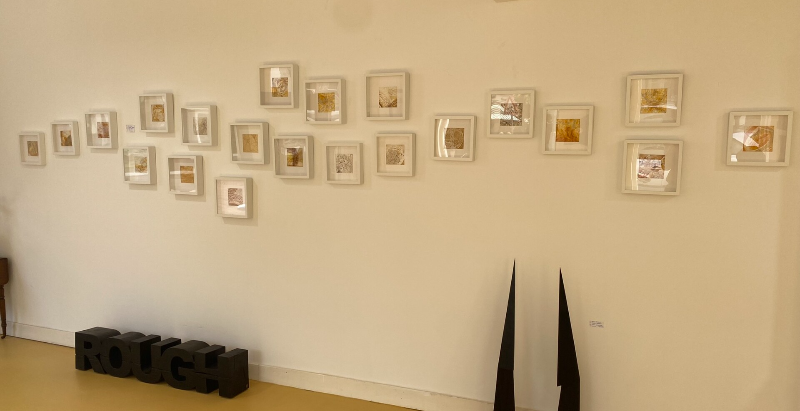 Delving Into the Japanese take on cracks
From broken pottery, the Japanese philosophy of repair emerged; with gold lacquer, they closed the cracks from teacups and plates. This tradition of preserving and finding beauty in would-be castaways has led to a further discussion on how we view ourselves. A life where we feel like we must keep for ourselves, these cracks. Mathea expresses this through the lines and white patches of her Wabi-Sabi Series.
Dark brown lines prevail through gold, on what we must remember as the beauty of Imperfection.
The Dutch Interpretation of Chinese Buddhism
While Wabi Sabi has been credited with ancient Japanese practices, its history predates this belief. Notably, it mirrors a neighbour's take on spirituality.
In present-day Holland, this ancient style dominates Mathea's thoughts as she questions the imperfect aspects of our ever-changing life. Her interaction with the concept of death and its unfathomable dark depths are questions we must all ask ourselves. Its universality shows that we are better as we borrow from others, adding to ourselves. Art informs us; it informs perception, how you can add to the one without necessarily losing the other.
Wabi

-

Sabi Compliments Life
Close up of various Wabi Sabi's by artist Mathea Boogert in the very sunny gallery space of Gallery Sorelle Sciarone in Gouda.
There is a delicate balance; so much of who we are hangs on this fragile string. Today or tomorrow, you might find yourself so full of health, this vibrancy in rich sunshine and incredible sky, a rich blend of blue, yellow and green.
Many artists have used these colours to communicate fertility, health, wealth, life, beauty, and much more.
The preconceived idea that life is beautiful, simple and lovely or without ever coming near any dirt cannot be farther from the real thing as possible.
The typical understanding can be seen in the fallout between friends or divorce, a beautiful relationship ending. Of course, no one gets into anything expecting it to end or the impending finalisation of such things. However, in a practical sense, this is an everyday phenomenon we choose not to spend too much time on.
They become the memories we keep, expanding our bandwidth. Mistakes add to the value and meaning of who we are, defining us more; those chips add to art, the dust, the time.
Hence a very fragile string holds it together, intangible and ever transient.
It was such a lovely and social time, we ended up doing the small toast later than we anticipated to the end of the opening, as opposed to before halfway. By the time, a few works had been sold, goodbyes had been said. Still artist Mathea Boogert's collectors, family and friends, where there to toast and admire her work and her as a person.
The

Japanese's

unique perspective on pain and

shortcomings

and

its

contrast from Earth to Ocean; An Artist Journey
The depth of the sea is always portrayed in layers of blue and an abundance of brown for the earth. This play between transient and grounding is seen in Mathea's ouevre. Mathea, in her Wabi-Sabi's, has created an asymmetrical series that shades brown through simple materials and techniques. In many ways, the Wabi-Sabi's contrast with Mathea's blue paintings, highlighting a long road of a nuanced creator.
The movement and colour use in Mathea's ouevre brings the Spanish film Pantoque, a 2017 art project by Eduardo Armada with Ramon Trigo, to mind. In this film, he captures the distinctive quintessential moments of conception. This gives some insight into the journeys through bouts of creativity, expression and realism, which has provided an added layer of appreciation of Mathea's art. And the nuances in the forms and values of her art pieces. The film uses large blue clothes moving in the wind to contrast the brown workwear and environment. The blue is transient and moving, the brown steadier and solid in the film—each colour playing a character, supporting role in highlighting the Spanish artist's rough charcoal drawings.
Mathea Boogert and Tascha Sciarone in front of Mathea's blue abstract artwork. Examples of her large blue oeuvre, contrasting with the earthy tones in her Wabi-Sabi pieces.
Transient Reminders

of

Beauty
The cone of vision presents abstract earthy obliques, and the colour palettes she uses are analogous. They expand more like deep cuts, these cracks.
Beauty is so subjective; Wabi-Sabi is profound philosophical teaching about life. It combines beauty and repetition. All things are incomplete; we fill ourselves with the idea of completion.
Opening our hearts to a more straightforward life calls for appreciating little simple things and infinitesimal moments where and when beauty spontaneously occurs.
That is the true interpretation of Boogert's Art. She chooses earthy tones to say this. Beauty is so much more than symmetry, lacquer or outdoor scenes of the city in all its picturesque glory.
The colour value compliments minimalism aesthetics; it brings a little bit of tradition, history, the outside, and rough edges and adds beauty without trying to be anything but simple.
Final thoughts by the curator
To me, Wabi-Sabi is this transient philosophy which cuts its way through art, architecture, and photography. It's not a traditional or generic art form. It encourages us to be one with the earth, contributing to a more prosperous life. Looking through her art, the colours and the lines mimicking the gold lacquer of the old Japanese tell on pottery, it calls a sense of repair. I think most people forget that. I know I do; as such, having art which reminds you is a way of getting through the present. Mathea's favourite colour used in her art is a vibrant greenish-blue which is absent here, making me feel that she, through this series, intends to communicate by removing herself, reminding us that nothing remains the same. We can have spontaneous bursts of beauty, and even in its subjective form, beauty comes from the simplicity and little bits of Imperfection which makes up the sum of our lives.
About the Artist: Mathea Boogert
Mathea Boogert (1957) is a Dutch abstract painter whose works are snapshots of conversations or time. Her works capture fleeting moments in colour. The artworks are leftover objects created while getting lost in conversations and emotions of yourself or people she coaches. That is why there is so much difference in her work. Each creation is influenced by her environment and the dialogue with herself or another. The final work is finished because the conversation or moment is also finished. She will rarely return to the artwork to make it "prettier" afterwards because that's reinterpreting and packaging a perfect and ready snapshot.
Curator Aida Oluwagbemiga for Gallery Sorelle Sciarone
About the Curator: Aida Oluwagbemiga
Aida Oluwagbemiga is a Nigerian curator with a background in Art and Diplomacy from the University of Abuja, Nigeria. She describes herself as a "Trans-disciplinary, Eclectic Curator. Sub-Saharan History & Tea Aficionado".
Aida is deeply entrenched in the cultural community, hosting art shows, fashion shows and poetic readings.
If you enjoyed the exhibition, please share it with your friends, family, co-workers, other artists and anyone you like.
All paintings are for sale.